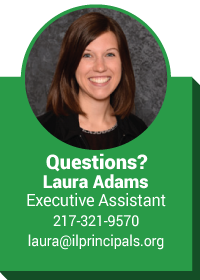 Welcome to the 2018 IPA Officer Election. Per the IPA Constitution, eligible IPA Members may run for a state office upon nomination by an IPA State Director at the first regularly scheduled Board of Directors meeting of the calendar year. The open office for 2018 is IPA President-Elect. The election voting window will be Wednesday, March 7th (8:00 AM) to Wednesday, March 14th (5:00 PM). Voting will not be allowed before or after these times. On March 7th, eligible IPA voting members will receive an email with instructions about how to access the online ballot for the open office. Please direct questions to Laura Adams, IPA Executive Assistant, at laura@ilprincipals.org.
Voting irregularities may be reported to IPA Election Committee members:
Steve Lee, Retired Principal (North Cook Region)
Kim Pabst, Principal, Mark Denman Elementary School, Danville (Illini Region)
Melissa Crow, Principal, Wells Elementary School, Grayville (Egyptian Region)
Candidate(s)for President-Elect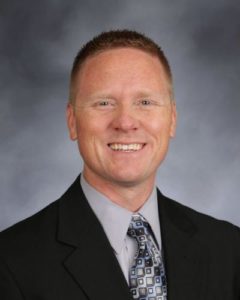 Name:
Dr. Daniel D. Krause, Jr.
Present Position:
Principal, Willowbrook High School
Professional Training:
B.S. – Mathematics – Loyola University
M.A. – Educational Leadership – Northeastern Illinois University
Ed. D. – Educational Leadership – University of Illinois
Administrative Certification:
General Administrative & Superintendent
Currently pursuing CSBO Endorsement
Teaching and Administrative Experience:
1995-1996           Shepard High School                      Mathematics Teacher
1996-2000          Niles North High School                Mathematics Teacher
2000-2002         Andrew High School                       Division Chairperson for Math and Applied Technology
2002-2005         Addison Trail High School             Assistant Principal
2005-2007          Willowbrook High School             Assistant Principal
2007-Present     Willowbrook High School              Principal
Professional Organization Experience:
2013-Present: Illinois Principals Association DuPage Region State Director
Representative for State Superintendent Advisory Council
Staff Development Committee
Fall Conference Planning Team
ED360 Advisory Council
Superintendent Preparation Programs Review Committee.
What do you see as the major issues the Illinois Principals Association should be addressing, and how do you foresee your role as IPA President-Elect, in providing leadership to address these issues? Consistent with the mission of the Illinois Principals Association to develop, support, and advocate for innovative educational leaders, as President-Elect, I plan to engage and collaborate with the varied members of our organization so we can further promote and celebrate the outstanding work of our schools.  Each day, on behalf of students, staff, and communities, our members meet and exceed the expectations set for our profession.  Through this work, regardless of the issues and challenges presented, we maintain a focus on helping each student achieve at the highest levels.  And with the continued commitment of the Illinois Principals Association, we will be sure each leader is celebrated and recognized for this outstanding work.