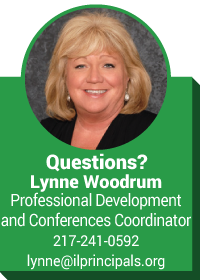 The Illinois Principals Association offers training for individuals who wish to improve their leadership mentoring and/or coaching skills. Anyone interested in increasing their mentoring and coaching knowledge and skills, or in becoming an IPA mentor or coach (see detailed Qualifications section) for the 2018-2019 school year, should consider enrolling in this program. The IPA Mentoring and Coaching Training Program can also help prepare individuals wishing to earn the following four COACHING micro-credentials: collaborative leadership coaching, instructional coaching, reflective coaching, and coaching communications.
Program Details
The four-part training program is delivered via a blended learning environment (face-to-face and virtual) and provides:
Application and development of skill
Knowledge of real-life coaching practices
Resource tools
Ongoing support
15 Professional Development Hours
Program Fees
The fee for the IPA Mentor and Coach Development Program is $199. This fee covers all training sessions and related support for one year. In subsequent years, IPA-trained coaches and mentors receive free follow-up tools, resources, and support. Individuals under contract to provide coaching and/or mentoring support by IPA also receive compensation for their service.
2018-2019 Training Schedule
Session 1 (face-to-face*): May 21, 2018 – Rosemont (7:30 a.m. – 3 p.m.; lunch provided)
Session 2 (face-to-face*): June 21, 2018 – Rosemont (7:30 a.m. – 3 p.m.; breakfast and lunch provided)
Session 3 (face-to-face*): June 22, 2018 – Rosemont (7:30 a.m. – 3 p.m.; breakfast and lunch provided)
Session 4 (webinar): September 18, Tuesday, 9:30 – 10:45 a.m.
*The face-to-face training sessions will be held at:
The Horace Mann Companies
9701 West Higgins Road, Suite #810
Rosemont, IL 60018
In addition to the sessions listed above, additional brief activities will be conducted including phone calls and virtual shared learning.
After completion of the training program, ongoing support and skill development will be provided for individuals serving as IPA mentors and coaches to stay current in skills and knowledge. Individuals returning as coaches and mentors in subsequent years are required to participate in twice-yearly webinars.
Program Registration
Individuals interested in registering for the 2018-2019 training program may.
IPA Mentor or Coach Qualifications
Individuals who are interested in serving as a paid IPA mentor or coach must meet the following qualifications:
IPA member.
Completion of IPA Mentor and Coach Training Program.
Demonstrated high performance as an educational leader.
Exemplary experience in the role of the person to be mentored or coached or supervision and development of persons in that role.
Current knowledge and understanding of educational policies, procedures, practice, and research, including current work in school and educational organizations.
Exemplary communications skills, including the ability to motivate, support, and develop leaders.
High level of skill and experience in situational assessment, problem solving, goal setting, and strategic planning.
Involvement and leadership in local, state, or national professional organizations.
Availability to periodically meet with administrators or attend professional development activities and meetings during regular school hours.
Completion of requirements in subsequent years, which include maintaining current skills and knowledge of educational and coaching practices and participation in program webinars.
Specific Requirements for Mentors Include:
Experience in developing or supervising new principals or administrators.
Demonstrated knowledge of and experience in the beginning stages of organizational development under new leadership.
Know and be able to guide others in establishing daily routines and procedures for school operations, management, supervision, and teacher development.
Ability to give feedback in positive and constructive ways to push thinking to higher levels of vision and strategizing to create long term plans and results.
Specific Requirements for Coaches Include:
Experience in coaching and collaborating with experienced and high performing principals and administrators.
Demonstrated knowledge of and experience in moving established organizations to higher levels of performance (ranging from stagnated and underachieving organizations to highly successful organizations).
Know and be able to coach others to attain distinguished levels of leadership.
Ability to map conversations to attain high levels of reflection and increase articulation of expected and unexpected outcomes and impact as well as to create sustainable strategies for change.
Registration for RETURNING IPA Mentor and Coaches
If you are a returning, eligible IPA mentor/coach, please complete the following:
Maintain IPA membership.
Maintain current skills and knowledge of educational and coaching practices.
Participate in required program webinars.